Antigen kit
€196,25 – €750,00
Product available only for professionals, health services, residences, health managers of sports facilities and companies authorised by their occupational risk prevention service.
Delivery in 2-3 business days
25 Units box
Number of boxes
€/box
€/u.
1-3 (25 – 75 u.)
196.25
7.85
4-19 (100 – 475 u.)
187.5
7.5
20-39 (500 – 975 u.)
175
7
40 or more (1,000+ u.)
Contact us
4 boxes pack (100 u.)
Quantity
€/box
€/u.
1-4 (100 – 400 u.)
750
7.5
5-9 (500 – 900 u.)
700
7
10 or more (1,000+)
Contact us
Single dose pack (60 u.)
Quantity
€/box
€/u.
1-4
591
9.85
5-9
471
7.85
10 or more
Contact us
What's inside?
Box 25 units
Each box contains an insert and 25 antigen kits, each of which includes buffer, swab, extraction tube with a dispensing tip and an aluminum bag with a cassette.
The 25 units box can be purchased separately or in packs of 4 boxes (100 units).
Single dose box
The box contains an insert, a buffer, a swab, an extraction tube with a dispensing tip and an aluminum bag with a cassette.
The single dose box can only be purchased in packs of 60 boxes (60 units).
When should the antigen test be used?
The SARS-CoV-2 Antigen Test Kit can detect an infection of coronavirus in both symptomatic and asymptomatic patients. It's called for in users before an office visit, medical intervention etc, particularly for distinguishing the diagnosis of seasonal flu or colds from those of Covid-19. It can also be used in combination with the seroscreening kit to screen groups and populations.
How are they used?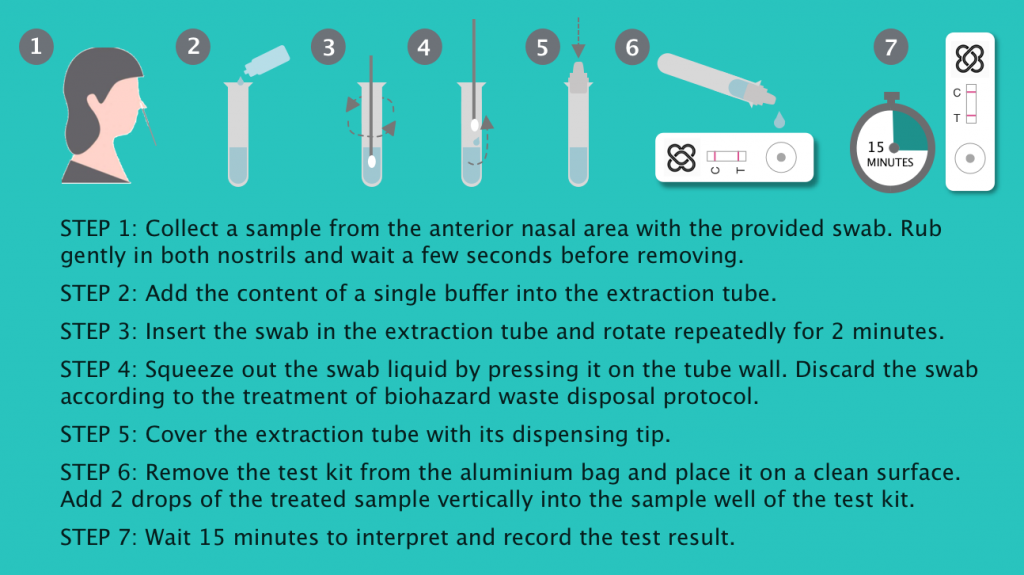 The kits are simple to use. Collect the sample by gently rubbing the swab in the anterior nasal area from both nostrils. Add the buffer liquid to the plastic tube, and then insert the swab and rotate for two minutes. Press the liquid out of the swab against the inside of the tube and dispose of it according to biohazard waste treatment practices.
Next, cap the tube. Immediately remove the kit from the aluminum envelope and place it on a clean surface. Add two drops of the sample from the tube to the well of the cassette. Wait fifteen minutes and then interpret the test results.
Reading the results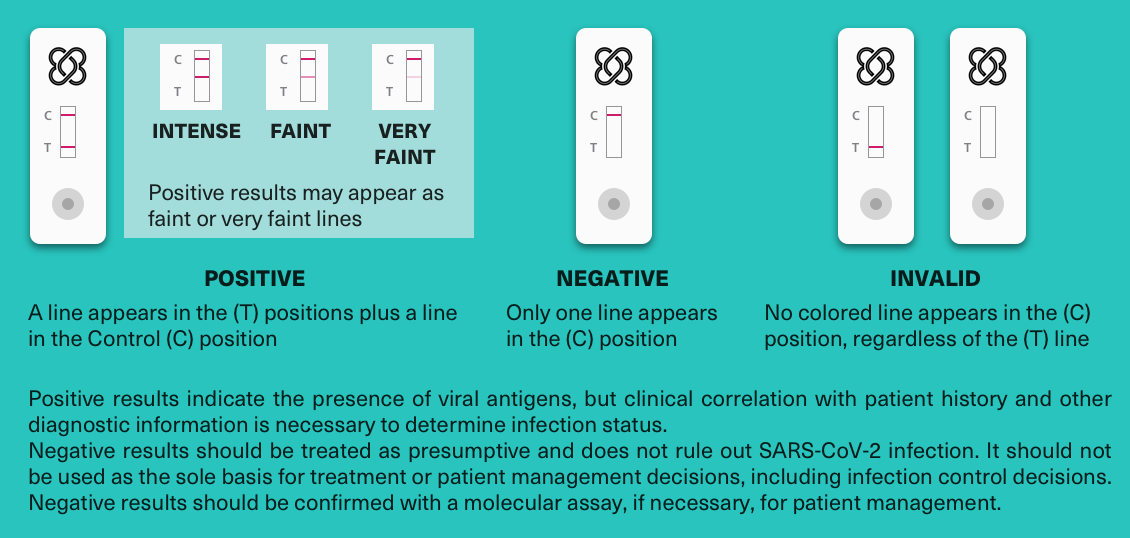 After 15 minutes, read the results. Positive results are indicated by a colored line next to the "T". The control line "C" must always be visible for the test to be considered valid.
Actions
Positive results indicate the presence of viral antigens, but a clinical correlation with the patient's history and other diagnostic information are necessary to determine the status of the infection.
A negative result should be treated as presumptive and does not rule out SARS-CoV-2 infection. It should not be used as the sole basis for determining treatment or clinical decisions. Negative results should be confirmed with a molecular assay if necessary for patient management.
The antigen test indicates if the user of the test has SARS-CoV-2 virus present in the mucous membranes of the anterior nasal area at a given moment, but it does not allow us to know the status or progression of the disease.
It is important to bear in mind that a patient with a positive result is contagious and therefore preventive isolation of both the subject and their circle of contacts is recommended.
Reliability

The Linkcare Antigen Kit has been clinically validated with very positive results in terms of sensitivity and specificity, as well as a negative predictive value of 100% and a positive predictive value of 98%.
Certificates
The kits have all the necessary certificates for their commercialization in the European Union. Their sensitivity and specificity have been validated both in Europe and in China.