Seroscreening kit
€125,00 – €450,00
Product available only for professionals, health services, residences, health managers of sports facilities and companies authorised by their occupational risk prevention service.
Delivery in 2-3 business days
25 Units box
Number of boxes
€/box
€/u.
1-3 (25 – 75 u.)
125
5
4-19 (100 – 475 u.)
112.5
4.5
20-39 (500 – 975 u.)
100
4
40 or more (1,000+ u.)
Contact us
4 boxes pack (100 u.)
Quantity
€/box
€/u.
1-4 (100 – 400 u.)
112,5
4,5
5-9 (500 – 900 u.)
100
4
10 or more (1,000+)
Contact us
What's inside?
25 units box
Each box contains an insert and 25 seroscreening kits consisting of an aluminum bag with a cassette, a single-use lancet, a dropper, an alcohol wipe, and a buffer bottle.
The 25 units box can be purchased separately or in packs of 4 boxes (100 units).
Single dose box
The box contains an insert, an aluminum bag with a cassette, a single-use lancet, a dropper, an alcohol wipe and a buffer bottle.
The single-dose box can only be purchased in packs of 60 boxes (60 units).
How are they used?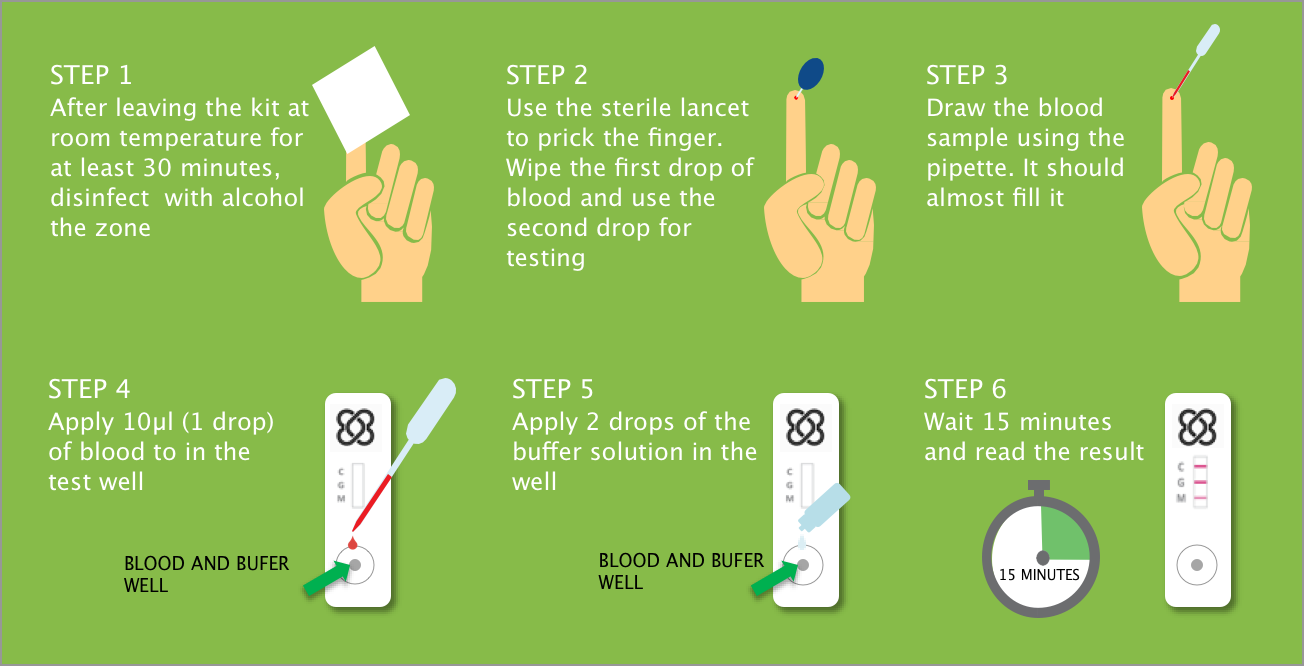 The kits are simple to use: a health professional pricks the patient's finger with a sterile lancet and discards the first drop of blood. They use the enclosed pipette to extract the blood and then deposit 1 drop of blood in the test well followed by two drops of buffer solution. Then they wait 15 minutes before reading the results. That's how easy it is.
Seroscreeing SARS-CoV-2 kits should only be used by professional personnel. Protective systems should be in place to adequately protect the test takers from contagion.
Reading the results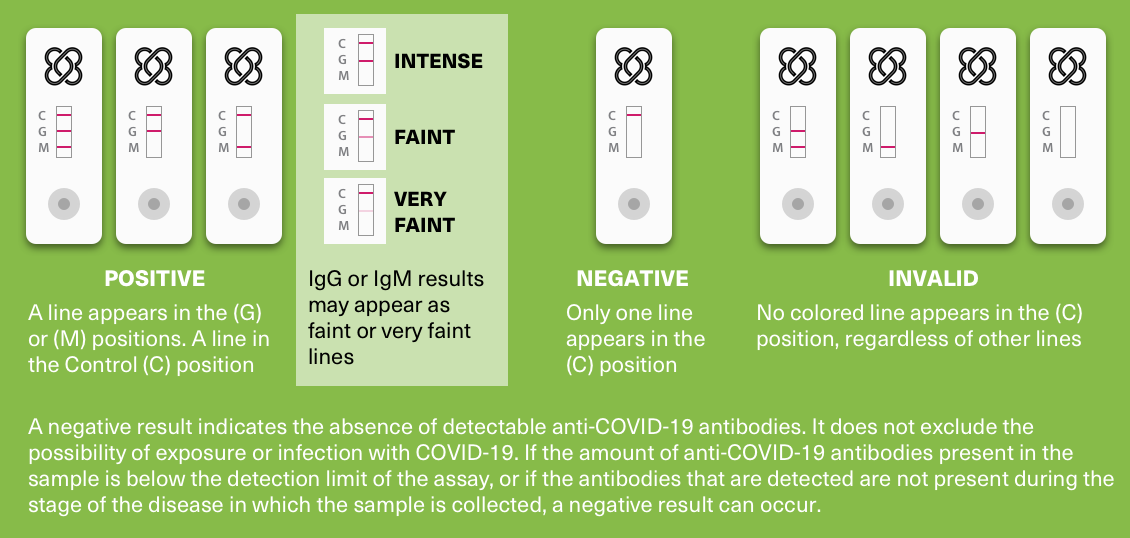 After 15 minutes, the results can be read. Positive results, both for IgM or IgG, appear as a purple/red line. Because of the technology used, the line may be very faint, but should nevertheless be considered a positive result. The C control line must always be visible. Otherwise, the test should be considered invalid.
Actions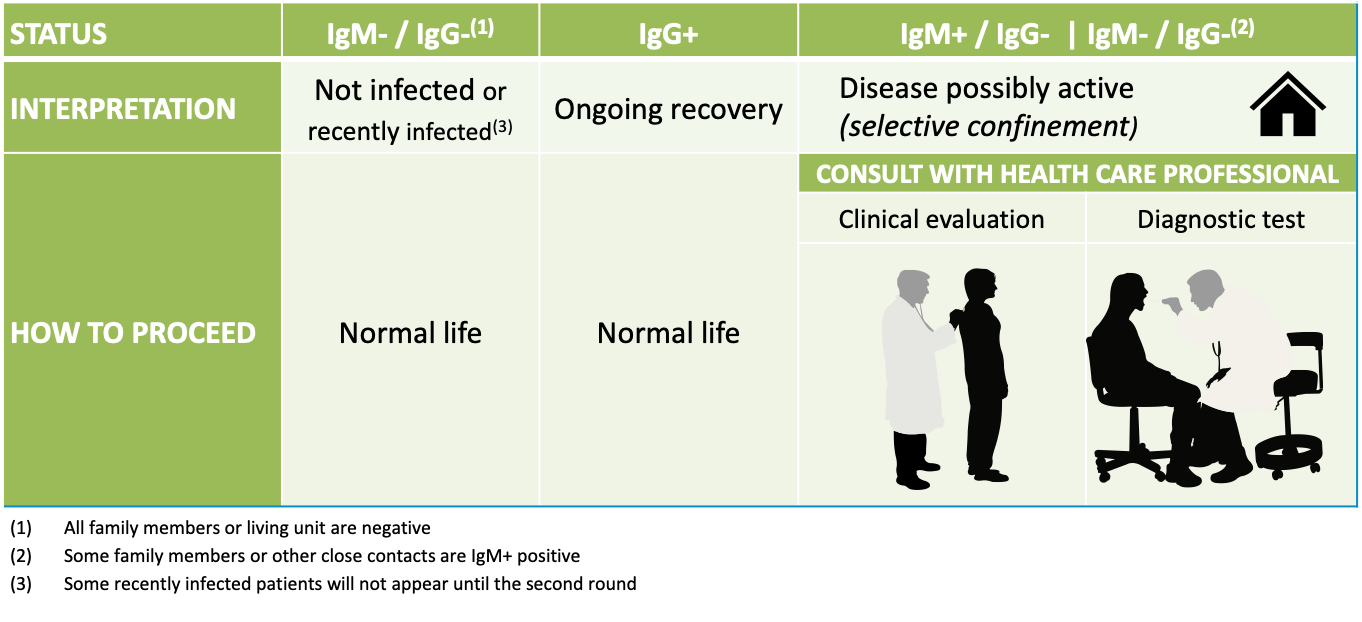 In the first, "baseline" round, the test indicates if the subject has been exposed to the virus but it does not determine how long ago the infection occurred (up to five weeks for IgM+).
In the second, or "precision" round, the appearance of a positive result which was negative in the first round is an indicator that the individual was infected in the past 10 days.
In the later control rounds, the objective is to confirm if all of the cases have been detected and isolated, and thus that there are no additional possible asymptomatic carriers.
Reliability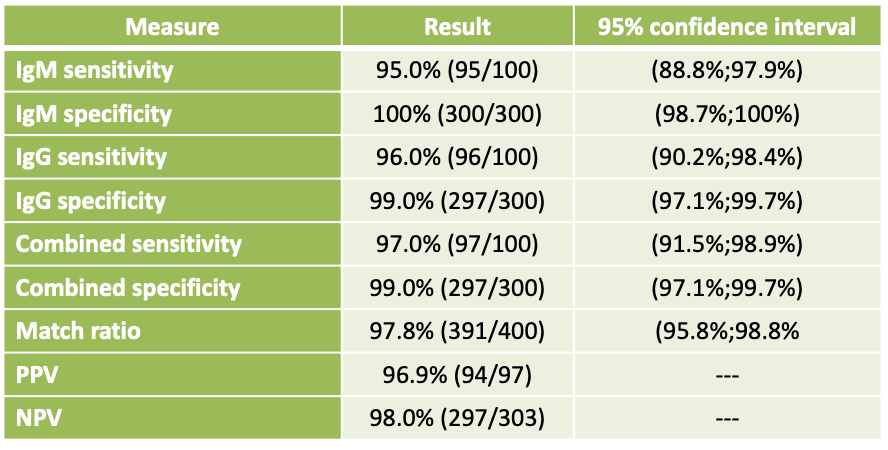 Linkcare's assays have been validated by three different hospitals in China: Wuhan Hangyun Hospital, The First Affiliated Hospital of Guangzhou Medical University, and Third People's Hospital Hubei Province.
Certificates
The kits have all the necessary certificates for their commercialization in the European Union. Their sensitivity and specificity have been validated both in Europe and in China.